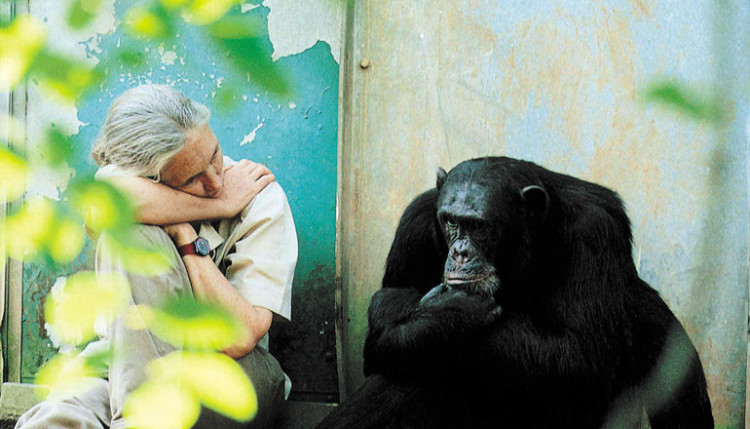 Jane Goodall: «We are destroying the planet because we lost wisdom»
It is the conservationist and primatologist most recognized in the world. Her passion for protecting species remains intact and alive as ever at her 81 years. A conversation with the inspiring Jane Goodall about the planet in which we live and the people who inhabit it.
Without a cane or any object of support. Without this constant speed with which we tend to live in the era of hyperactivity. Without a cell phone in hand that could remove her attention. Just her, with his characteristic gray hair and always with a smile intact, deep look, accompanied by Mr. H, a stuffed monkey that helps raise awareness among smaller in each country she visits. This is how Jane Goodall presentes each time she is in front of children, youth and adults around the world.
In her 20, she was against the study models of the time, and into the jungle to study chimpanzees in constant interaction with them. Yes, a woman, young, British, in the middle of Gombe Stream National Park in Tanzania, Central Africa, doing studies on species in a way that was not accepted by the science. Always inspired and accompanied by another woman, her mother, she quickly had international recognition for scientific findings made: chimpanzees could create their own tools. But she quickly realized that these same species she had studied were in danger because of human being. Since then, she travels 300 days a year to raise awareness of the need to protect the planet Earth. And she always makes a time to give a talk.
Many times it is thought that climate change is a purely environmental problem, when in fact it is linked to other problems of today's world, such as poverty. How do you explain that bond?
Climate change is happening and is affecting forests, oceans, people. But it is not a unique problem, is due to a combination of factors. One problem is poverty. When there is such a degree of poverty, a family starving, comes to chop down every last tree to eat and buy the cheapest products. That leads them to buy food produced not in an environmentally friendly way, or clothing that is made in no dignity. They try to meet their needs as possible.
Without considering the extreme degree of poverty, how de population live? Is it healthy for the planet our current lifestyle?
Then poverty, the second major problem underlying environmental problems is the lifestyle of the rest of the population. Many of us have things we do not need and there are people who are well above what we usually have. In a theoretical best quality of opportunities, we have a lifestyle that is unsustainable.
You always stresses the importance of population growth. What is the impact on the environment?
The increase in human population is a huge concern. And today there are more people than can hold the planet and that is something that must change. If we continue with this population growth, we will not be able to meet the needs of all and the impact will be greater. How many people can withstand this planet?
This is why it's vital education in women?
So is. The education of women in underdeveloped and developing countries is key. There tend to have many children and you need to give them tools so that there is a family planning conscious.
In terms of consciousness, are we so different from the other species?
Once we convinced the science that chimpanzees had a culture, personality, mind and emotions, they strove to prove that we were wrong, saying, for example, they have no religion, or now the issue is whether or not they have awareness. It continues to exist in humans an attempt to be different and feel that we are the dominant species on the planet. We think of ourselves as different, but we are not so different; we are also animals.
In the documentary «Jane's Journey», you mention that, being the first man to walk on the moon is at the same time, responsible for destroying the planet. Why do we hurt the one place we have to live?
It's because we lost something called wisdom. It is a wisdom that speak many indigenous people, it's about that we should take that every time we make a decision, think how will affect future generations. Today many of the decisions are based on how it will affect me in the actions of certain company or the next political campaign. Do not you think that there is a kind of disconnect between the clever mind and hearts that dictate us love and compassion? Humans will never reach its full potential until there is a deep connection between your mind and your heart.
What inspires you to keep wanting to change the world at age 81?
Sometimes you wonder if it is worth continuing. But there is not a day goes by that I do not see a small child on a plane, on a bus or on the street and looking at him, I wondered how much damage we did to the planet since I was that age. It gives me a feeling of anger and anger. But I'm a very stubborn person, I will not let you pull me back still keep striving to get ahead.
Confession author
Every moment that Jane Goodall recalls the origins of her vocation and passion for taking care of the species, takes a very unique and characteristic fact. She, who had been in contact with chimpanzees, who had interacted with them, who had almost been one among their groups, was challenged by the «great men» of science telling her that the animals had no feelings, they were not smart, they should not be called by names and numbers but figurative. Goodall knew they were wrong. Why? «Because I had a being who showed me they were wrong… my dog,» said smiling. Every time someone questions the issue of climate change or believed superior to another species, or even human own, I look at my dog and I remember that phrase …